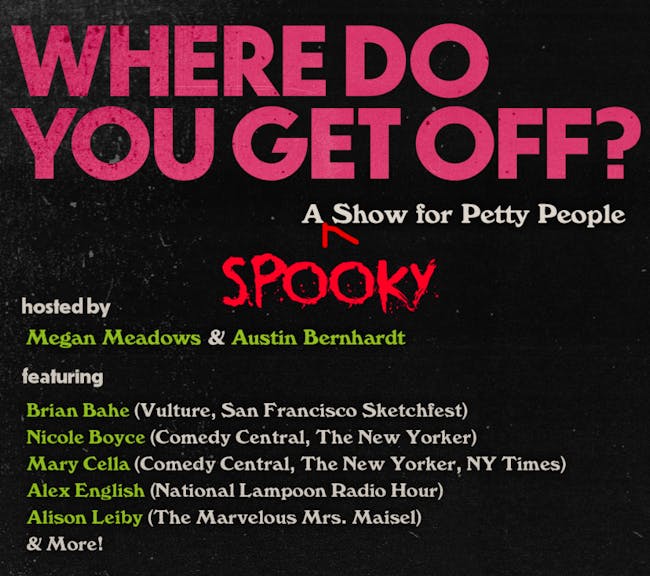 w/ Brian Bahe, Nicole Boyce, Mary Cella, Alex English, Alison Leiby
Where Do You Get Off? - a Show for Petty People
$8.00 - $10.00
Sales Ended
Two comedians invite you and your worst impulses to a night of gripes, games, and non-scary audience participation.
Comedians Austin Bernhardt (Comedy Central, The New Yorker, McSweeney's) and Megan Meadows (Reductress, Work it Out!) celebrate the art of being petty in a SPOOKY HALLOWEEN EDITION of this show designed to boost their own self-esteem. It's not all about them, though—audience members and special SCARY guests are also invited to ditch the high road and wallow in the muck. (Oh, and P.S. If you don't come, they'll assume you think you're better than them and WILL text about it WITH GHOSTS later.)
Come with your best gossip and the costume you think we'll hate the most and you might just win a free drink.
FEATURING:
Brian Bahe (Vulture, San Francisco Sketchfest)
Nicole Boyce (Comedy Central, The New Yorker)
Mary Cella (Comedy Central, The New Yorker, NY Times)
Alex English (National Lampoon Radio Hour)
Alison Leiby(The Marvelous Mrs. Maisel)
Lineup subject to change.
Limited seating. Your ticket does not guarantee a seat.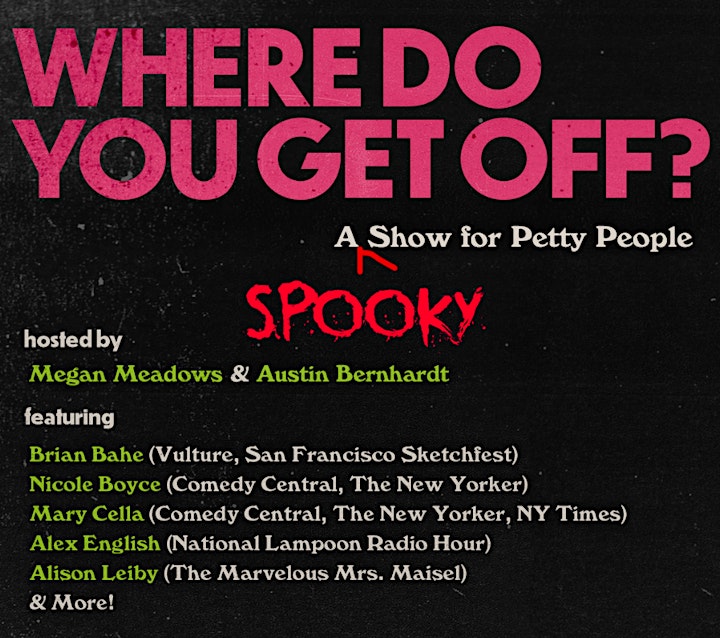 Venue Information:
littlefield
635 Sackett Street

Brooklyn, NY, 11217