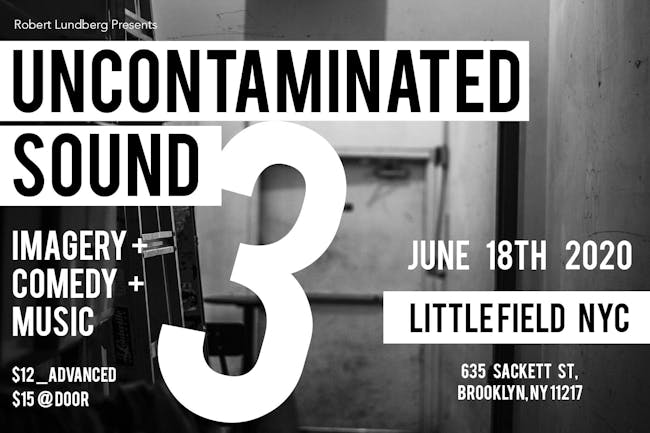 Presented by Robert Lundberg
Uncontaminated Sound 3
Mike Cannon, Lizzie & The Makers, Shilpa Ray
$12.00 - $15.00
Temporarily offline
Images by Robert Lundberg + comedy by Mike Cannon + music by Lizzie & The Makers and Shilpa Ray!
Uncontaminated Sound is the photographic series of photographer and artist Robert Lundberg which brings to life the candid sides of musicians, comedians and artists both onstage and off. This year the immersive experience takes it to a new level for Uncontaminated Sound 3. Alongside photographic work and visual imagery from the series, the event will also feature both musicians and comedians performing that evening. The lineup includes comedian Mike Cannon, with musical performances by Lizzie & The Makers and Shilpa Ray.
Lundberg, who has been featured in the likes of Huffington Post, Paste Magazine, The Patch, No Depression and more, brings a unique and honest vision to the world. The series has featured the likes of Sinbad, Louie Anderson, Rufus and Martha Wainwright, The National, Ron English, Spiral Stairs (also of Pavement), The Love Language, Mike Cannon, Martin Urbano, Geographer, Macklemore's Gemini tour featuring Eric Nally of Foxy Shazam and Xperience, We Are Scientists, Jukebox the Ghost, Robert Schwartzman of Rooney and more, on the continuing journey.
Connect with Robert Lundberg and Uncontaminated Sound via:
https://www.instagram.com/uncontaminated_sound/

Shilpa Ray is an American rock band from Brooklyn, New York with a blues punk sound, led by singer-songwriter Shilpa Ray. Her music has been compared to Blondie, The Cramps and Screamin' Jay Hawkins and her singing has been compared to the style of Patti Smith, Nick Cave and Ella Fitzgerald. Ray is notable for combining an Indian harmonium with a "big-voiced blues-rock howler" vocal approach. The band signed a record contract with Northern Spy Records and has toured internationally.

Venue Information:
littlefield
635 Sackett Street
Brooklyn, NY, 11217