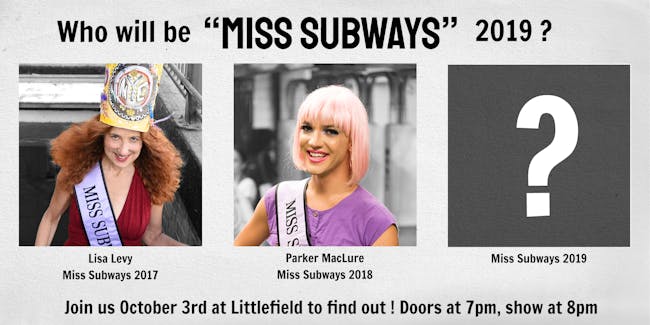 Miss Subways Extravaganza showcases contestants with talents spanning the weird and whimsical, demonstrating their devotion to the subway.
The Third Annual Miss Subways Extravaganza will take place on Thursday, October 3, 2019! We're returning to Littlefield for this year's celebration of the weird, wild, frustrating, entertaining, and vital circulatory system that is our city's subways.
This event serves as a call to arms for subway supporters and lovers of the NYC underground. A modern take on the Miss Subways pageants held in NYC between 1941 and 1976, subway riders of all ages and gender identities are encouraged to participate! In a night of performances spanning the classy, the trashy, the weird, and the whimsical, contestants will demonstrate their devotion to their subway line of choice. But only one can take home the transit tiara! Our panel of distinguished judges, with assistance from the audience, will select this year's public ambassador, Miss Subways 2019!
If you are interested in competing for the Miss Subways title, information about applying can be found here: www.cityreliquary.org/who-will-be-miss-subways-2019?
All proceeds from the event support the City Reliquary Museum, NYC's finest cabinet of city curiosities, and Riders Alliance, a membership organization dedicated to winning better transit by organizing bus and subway riders into a powerful political constituency.
$15 in advance for Members; $20 in advance for General Admission; $25 at the door.
Seating is limited. Your ticket does not guarantee a seat.
Venue Information:
littlefield
635 Sackett Street
Brooklyn, NY, 11217