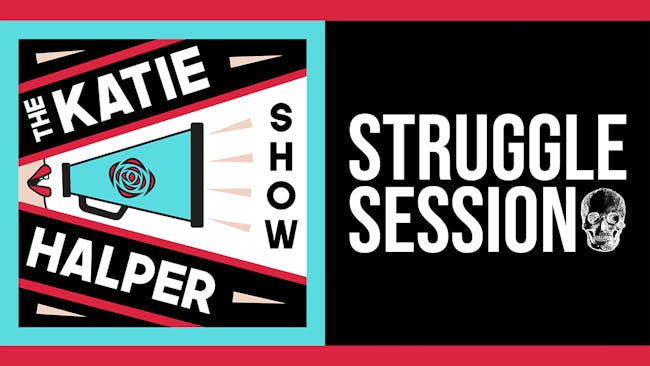 THIS IS AN ONLINE EVENT
The completion of the greatest trilogy in live podcasting history. Once again, two podcasts -- The Katie Halper Show and Struggle Session -- join forces for one special virtual live event! Struggle Session's Leslie Lee III and Jack Allison team up with Rolling Stone's Katie Halper for a night of comedy, culture, and politics. There will be games and special guests. Please join us!
Special Guests include Abby Martin (Journalist and host of The Empire Files and Media Roots Radio), Rania Khalek (Journalist and host of Soapbox and Unauthorized Disclosure) & more!
A portion of the proceeds of the show will benefit littlefield and Make the Road New York.

Leslie Lee III is a writer, critic, and host of Struggle session, a podcast about the intersection of politics and pop culture.

Jack Allison is a streamer and podcaster. He is the co-host of Struggle Session, a leftist look at pop culture and politics. He also co-hosts JackAM, a daily morning show streaming every weekday at 7AM on Twitch.
Katie Halper is a third-generation New Yorker, the host of the Katie Halper Show, the co-host of Rolling Stone's Useful Idiots podcast and a writer, whose work has appeared in The Guardian, New York Mag, Rolling Stone, The Nation and other outlets.
Venue Information: