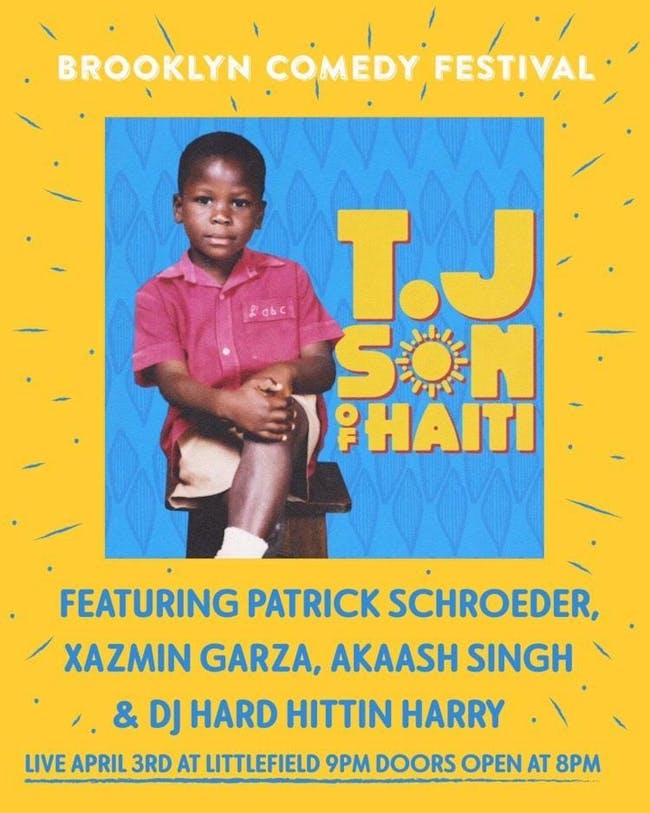 Presented by Brooklyn Comedy Festival
Son of Haiti: TJ Album Release Show and Party
TJ, Patrick Schroeder, Xazmin Garza, Akaash Singh, DJ Hard Hittin' Harry
$10.00 - $12.00
Sales Ended
You are cordially invited to join TJ and his friends as they celebrate the release of his album - recorded live right here at Littlefield.
A few months ago TJ recorded his debut comedy album at Littlefield. Now, a few months later, he's inviting you to come celebrate the release of that album with some more jokes and a party. TJ will be joined by his guests Patrick Schroeder, Xazmin Garza, Akaash Singh, and more. DJ Hard Hittin' Harry will be in charge of the ones and twos.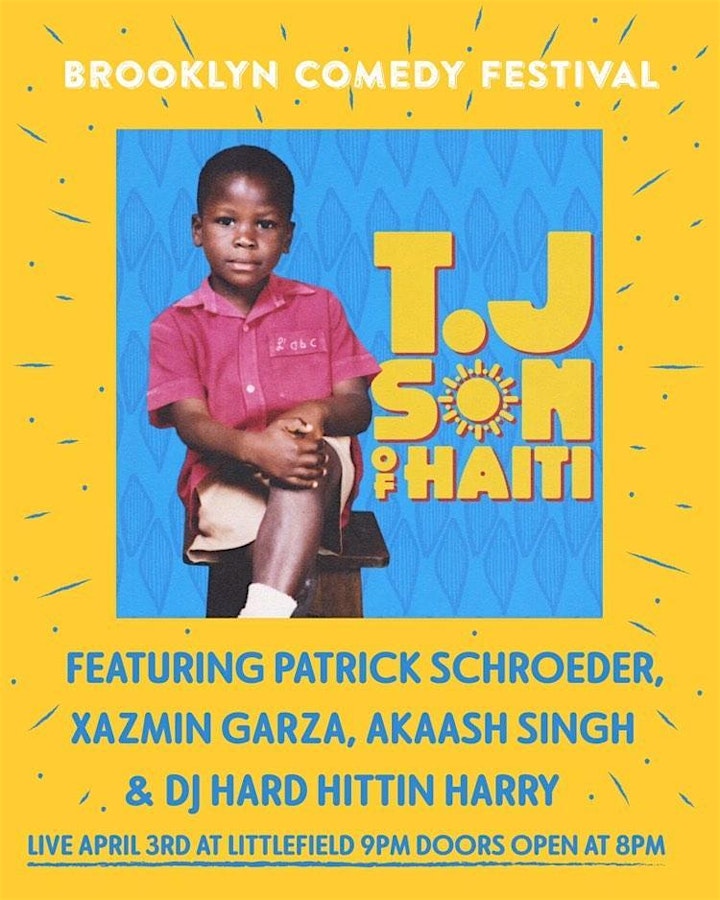 Patrick Schroeder is a New York based comedian who began doing stand-up as a teenager in the swamps of Florida. Since settling in The Big Apple, Patrick has become a staple of the scene appearing regularly at comedy clubs all over the city. He recently made his TV debut on Comedy Central's "Road to Roast Battle," and has appeared on SiriusXM radio. Patrick can also be heard on the hit podcast "The Good, The Dad, & The Ugly," available on iTunes and Spotify.

Xazmin Garza is a New York comic who has distinguished herself as a rising star with her razor-sharp joke writing and dynamic stage presence. Interrobang called her "frank and hilarious," naming her a comic to watch in Boston, where she started doing comedy. She has performed in festivals such as Limestone, Laughing Skull, Rogue Island, 10,000 Laughs, Women in Comedy Festival, and more. She was a finalist in the New York Comedy Festival's 2019 Funniest Stand Up Competition, and has been featured on SiriusXM.

The fierce pride in India is real, although it's worth noting Akaash's middle school principal thought he was Mexican for all three years. Such was life growing up in suburban north Dallas. Home. Akaash left home to help people. He wanted to be a doctor like his uncle and graduated pre-med from Austin College. Naturally, the next step was to move to Los Angeles and become a comedian. There is no easy explanation for this leap of faith. It was an idea that always flickered in his mind. Even when he was young, Akaash saw comedy differently. He appreciated the nuances and broke it down to a science, fascinated by what worked and what didn't. The first time he performed in front of his friends in high school, he bombed. Of course, it's a little more disheartening when the laughs don't come while you happen to be on the mic at The Comedy Store in L.A.You know, The Comedy Store, stomping grounds of Pryor, Seinfeld, Leno and… Singh? Akaash bombed there so badly that it was, well, almost funny. Before that night, he hopped on stage once every few months and called himself a comedian. After that night, he developed a singular focus on scrapping for as much stage time as possible while writing incessantly.

Venue Information:
littlefield
635 Sackett Street
Brooklyn, NY, 11217