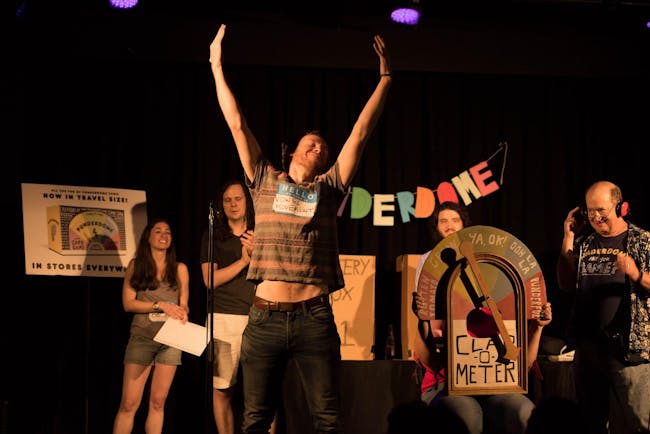 THIS IS AN ONLINE EVENT
"NYC's hilarious cult-favorite pun competition ... both an endearingly homemade and impressively high-caliber show." – The New York Times
Part of NYC's comedy landscape since 2011, the PUNDERDOME® is the wild & crazy pun compuntition created by a "Rodney Dangerfield impersonator" and his alleged daughter (Fred and comedian Jo Firestone) which was the inspiration for the Punderdome Card Game. The alleged dad will be hosting tonight's virtual show.
Twelve All-Star Pun-Masters will punticipate in a pun-making tournament – comprised of Punderdome® Champs as well as Bonafide Pun Champs and Celebrities from around the globe. The night's activities will also include "Can You Beat a 'Dome Champ?" where a Challenger gets a decided advantage in punning one-on-one vs. a 'Dome Champ of their choosing. (Challengers earn one of these coveted spot by winning a Punderdome Facebook Pun Contest (PUNtest) leading up to the show.)
Punderdome® winners will not be determined by judges; rather, audience voting will decide the outcome!
GQ Magazine shouted the Punderdome® as one of the "5 Funniest Nights in America," and quoted comedian Chris Gethard on why it's great: "The crowd. You'd think you were at the Roman Colosseum. They're passionate, to a level that feels dangerous. And to reiterate, this is a pun competition."
10% of donations/tickets will go to Coalition For The Homeless.
Link to streaming event will be sent with ticket confirmation.
"The lowly pun has long been considered the bottom-feeding bristle worm of the comedy world ….. That has changed with the arrival of Punderdome, a now monthly event that has turned punning into a high-functioning competition that is equal parts stand-up, beat poetry …." - The New York Post
"Can you imagine a more potent cure for the weekday blues? Here was concentrated, unabashed silliness that I longed to bottle and smuggle out in my purse." - The New Yorker
"The 5 Best Things To Do In NYC Tonight" - CBS New York
photo credit: Martin Lei
Venue Information: