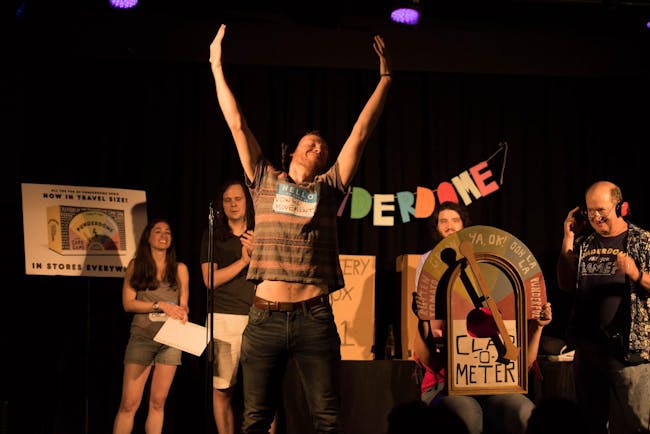 THIS IS AN ONLINE EVENT
SHOW TIME 7PM EDT
"NYC's hilarious cult-favorite pun competition ... both an endearingly homemade and impressively high-caliber show." – The New York Times
Part of NYC'S comedy landscape since 2011, the PUNDERDOME® is the wild & crazy pun compuntition created by a "Rodney Dangerfield impersonator" and his alleged daughter (Fred and comedian Jo Firestone). The alleged dad will be hosting tonight's Punderdome® 2.0 version – our first virtual show!
GQ Magazine shouted the Punderdome® as one of the "5 Funniest Nights in America," and quoted comedian Chris Gethard on why it's great: "The crowd. You'd think you were at the Roman Colosseum. They're passionate, to a level that feels dangerous. And to reiterate, this is a pun competition."
Twelve individuals will have a chance to participate in competitive spontaneous pun-making, including Ten Punderdome® Champs! Other games tonight: "Can You Beat a 'Dome Champ" where a newby-'Domer is chosen to go one-on-one with a 'Dome Champ of their choosing and PPPPs (Previously Prepared Punderdome® Puntifications) on current events/people in the news!
Since our first live show, pun-masters have been determined by the "Human Clap-O-Meter" who "accurately and scientifically" assessed levels of audience applause. In the virtual arena, the Human Clap will necessarily need to be modified, however, it will remain conceptually recognizable: "We the people" will still decide! Surveys will take the place of hearing ability (or lack thereof) – no longer will the Human Clap be called out, demeaned and forced to endure short and long-term emotional distress! And, for our first virtual show, we're excited to announce that The New York Times Comedy Critic Jason Zinoman will be reprising his role as Punderdome® Celebrity Judge!
10% of donations/tickets will go to Coalition For The Homeless.
Link to streaming event will be sent with ticket confirmation.
Reviews:
"The lowly pun has long been considered the bottom-feeding bristle worm of the comedy world ….. That has changed with the arrival of Punderdome, a now monthly event that has turned punning into a high-functioning competition that is equal parts stand-up, beat poetry …." - The New York Post
"Can you imagine a more potent cure for the weekday blues? Here was concentrated, unabashed silliness that I longed to bottle and smuggle out in my purse." - The New Yorker
"The 5 Best Things To Do In NYC Tonight" - CBS New York
photo credit: Martin Lei
Venue Information: