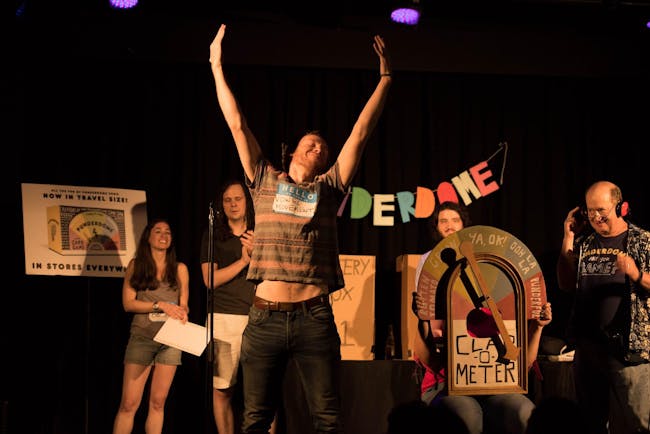 THIS IS AN ONLINE EVENT
"NYC's hilarious cult-favorite pun competition ... both an endearingly homemade and impressively high-caliber show during which astute wordsmiths spin clever and very funny puns to a packed house." – The New York Times
The Punderdome® has been part of New York's comedy landscape since May 2011. In June of this year, the pandemic forced a transition from the live stage to a virtual one, and created a focus which is beyond NYC. The Virtual 'Dome has included pun champs from Australia, Canada, England and Malaysia, in addition to champs from throughout the US!
Tonight's compuntition will feature an All-Star Tournament where punsters deliver two-minute pun stand-up routines with only two minutes to prepare! We'll also play "Can You Beat a 'Dome Champ?" where a Challenger takes on a Punderdome Champ in a one-on-one pun-off. The Challenger gets 30 minutes to prepare and the Champ gets NO Time! Challengers earn one of these coveted spots by winning a Punderdome Facebook Pun Contest leading up to the show. All our games are built around the Punderdome® Card Game.
Punderdome® winners will not be determined by judges who boast Ph.D.s in linguistics or comparative etymology; rather, audience voting will decide the outcome.
Warning: The 'Dome is a spectator sport and is not for the faint of heart.
Reviews:
GQ Magazine shouted the Punderdome® as one of the "5 Funniest Nights in America," and quoted comedian Chris Gethard on why it's great: "The crowd. You'd think you were at the Roman Colosseum. They're passionate, to a level that feels dangerous. And to reiterate, this is a pun competition."
The New Yorker's "Battle of Wits: A Report from the Punderdome": "Can you imagine a more potent cure for the weekday blues? Here was concentrated, unabashed silliness that I longed to bottle and smuggle out in my purse."
Swing American: "The intellect on display is stunning. Hardly a pun is repeated throughout the entire night. What Punderdome ends up achieving is the transformation of the delivery of the lowly pun to one of the greatest displays of human ingenuity contemporary New York has to offer."
10% of donations/tickets will go to Coalition For The Homeless.
photo credit: Martin Lei
Link to streaming event will be sent with ticket confirmation.
Venue Information: