w/ Alyssa Wolff, Noah Savage, Jared Freid, Alison Leiby, Tim Dillon
Alyssa Wolff
Noah Savage
Jared Freid, Alison Leiby, Tim Dillon
$12.00 - $15.00
Sales Ended
Stand-up meets awkward prom photos in this one-night benefit for Operation PROM and Planned Parenthood.
It's the night you've been waiting for. All. Year. Long.
Join us for a hilarious night of jokes, drinks, and of course, some incredibly awkward prom photos. With your hosts, prom kween and king, Alyssa Wolff and Noah Savage, plus the rest of their incredibly talented prom court jesters.
Featuring:
Jared Freid (The J Train Podcast + Betches U Up? Podcast)
Alison Leiby (The Marvelous Mrs. Maisel)
Tim Dillon (Netflix + Comedy Central)
All proceeds from the show will go to support Operation PROM as well as Planned Parenthood. Operation PROM is a national nonprofit organization that helps low-income students attend their proms by providing free dresses and tuxedos and Planned Parenthood can help make sure that sexually active high school students have access to birth control options. It's truly a win-win.
Learn more about Operation PROM: https://operationprom.org/
Learn more about Planned Parenthood: https://www.plannedparenthood.org/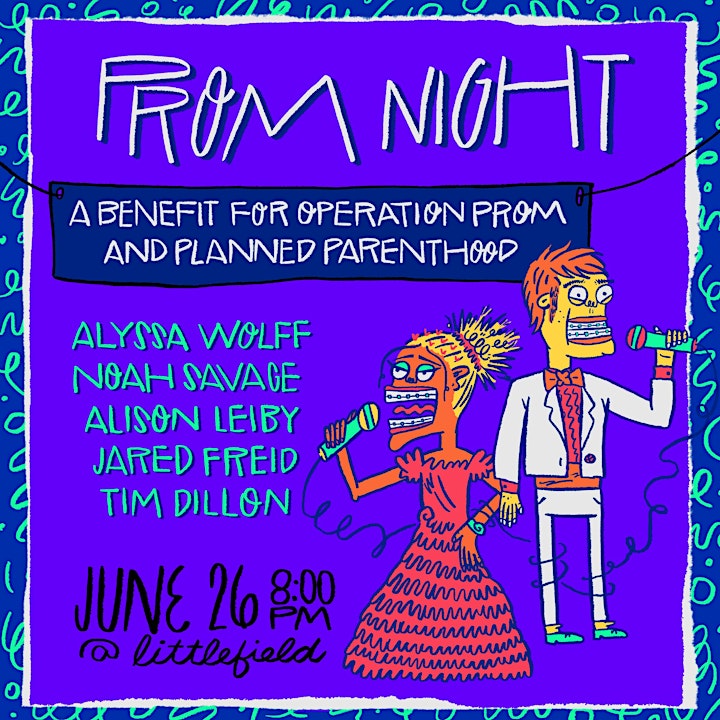 Venue Information:
littlefield
635 Sackett Street
Brooklyn, NY, 11217