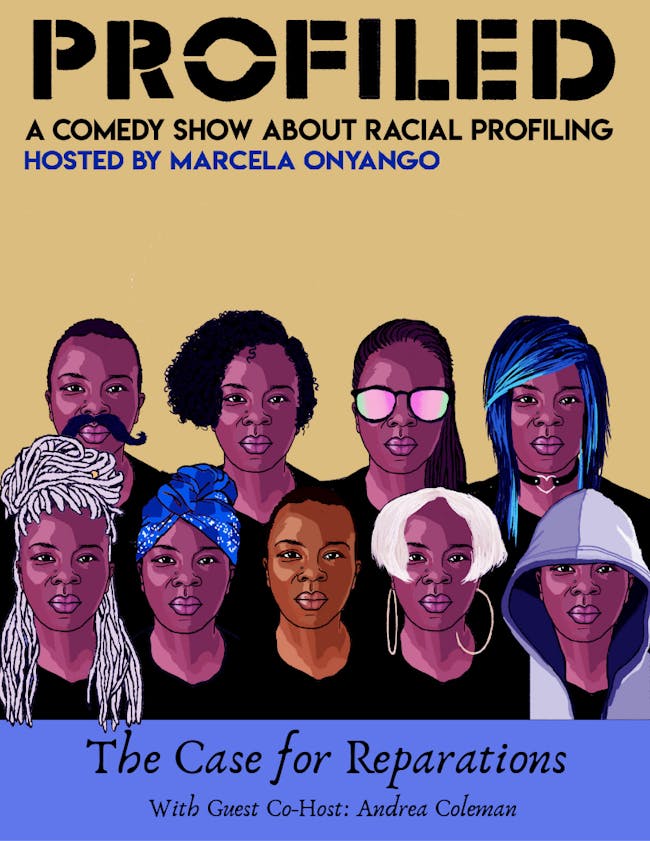 w/ Mamoudou N'Diaye, Brittany Carney, Solange Azor, Rhonda Hansome and more
Marcela Onyango
Andrea Coleman, Mamoudou N'Diaye, Brittany Carney, Solange Azor, Rhonda Hansome
$8.00 - $10.00
Sales Ended
PROFILED asks 15+ comedians to make the case for reparations. What DID happen to those 40 acres and that one mule?!
Profiled seeks to dispel the myth that talking about race has to be that uncomfortable by featuring comics who humorously discuss their experiences with racial profiling while your host Marcela Onyango entertainingly share statistics about difficult topics like mass incarceration, and the war on drugs. In celebration of Junteenth, Marcela invites guest co-host Andrea Coleman and 15 comedian to give their case for reparations. Basically we want to know what happened to those 40 acres and that one mule.
Lineup:
Mamoudou N'Diaye
Brittany Carney
Solange Azor
Rhonda Hansome
Hollie Harper
Glo Butler
V Lince
April Boddy
Tawanda Gona
Cordero Wilson
Kanene Holder
Wes Hazard
Dori Dimplez
Wanjiko Eke
Karolena Theresa
Mila Myles
Justin Covington
Sharron Paul
Elsa Waithe
Lineup subject to change.
Limited seating. Your ticket does not guarantee a seat.
Venue Information:
littlefield
635 Sackett Street

Brooklyn, NY, 11217