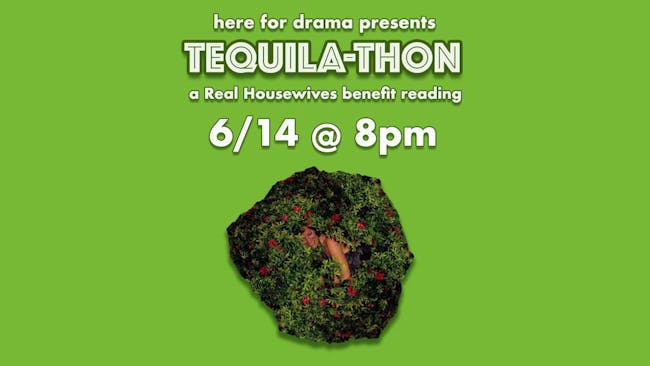 Here For Drama presents Tequila-Thon: A Real Housewives Benefit Reading
Here For Drama
THIS IS AN ONLINE EVENT
Here For Drama presents Tequila-Thon: A Real Housewives Benefit Reading, a dramatic LIVE reading of one of the best trips ever taken by Bravo's Real Housewives of New York. Brace yourselves for chemically-peeled faces, arguments over bedrooms and who said what when to Page Six, self-inflicted stab wounds, poolside-catharsis, a Countess in a bush, a rose and a thorn, and the definitive explanation of the difference between Palm Beach and West Palm Beach. And, for those of you 21-and-over, a drinking game to play along at home if you're so inclined!
Featuring: Ira Madison III (as Bethenny), Phillip Henry (as Ramona), Natalie Walker (as Sonja), Ryan Houlihan (as Luann), Milly Tamarez (as Dorinda), Paul McCallion (as Tinsley), Michael Benjamin (as Carole) and Sarah Galli (as Narrator).
A portion of the proceeds from this event will be divided equally between The Bail Project and the Black Trans Protestors Emergency Fund.
Update: Due to an overwhelming show of support, Brooklyn Community Bail Fund has asked that donations be directed elsewhere. This page has been updated to reflect that.
ABOUT HERE FOR DRAMA
Here For Drama is a performance/fundraising group founded by three friends that hosts live comedy events across NYC in support of various worthwhile causes. Some of our past beneficiaries have included: New York Women's Foundation, Planned Parenthood, and God's Love We Deliver.
For details on upcoming events please like/follow Here For Drama on Facebook, Twitter, Instagram and on YouTube.
Digital links to stream the show will be provided upon ticket confirmation.
Venue Information: