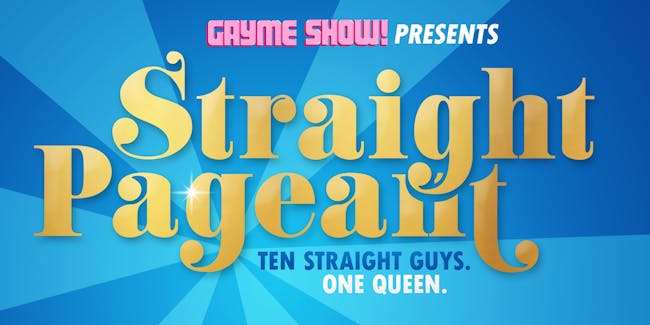 Ten straight guys. One queen.
Gayme Show! Presents: Straight Pageant
$10.00 - $12.00
Sales Ended
Ten straight comics compete. Only one will be crowned Mister Queen of the Straights.
Doors open at 7:30PM. Show starts at 8:00PM.
Limited seating. Your ticket does not guarantee a seat.
Lineup subject to change.
The creators of Gayme Show are proud to welcome you to Straight Pageant! Join host Dave Mizzoni as ten deserving straight comics compete for a chance to be crowned Mister Queen of the Straights. The night's proceedings will be a heterosexual circus including runway shows, talent presentations, and a final Q&A. The audience will cast their vote alongside the scores from our esteemed panel of judges. Who will take home the crown? Find out at Straight Pageant.
CONTESTANTS: Mike Abrusci, Douglas Widick, Sebastian Conelli, Eric Gersen, Ryan Haney, Juan Nicolon, Tim Platt, Matt Starr, Marshall Stratton and more!
JUDGES: Sydnee Washington, Molly Austin, Aaron Jackson, and more!
Venue Information:
littlefield
635 Sackett Street
Brooklyn, NY, 11217