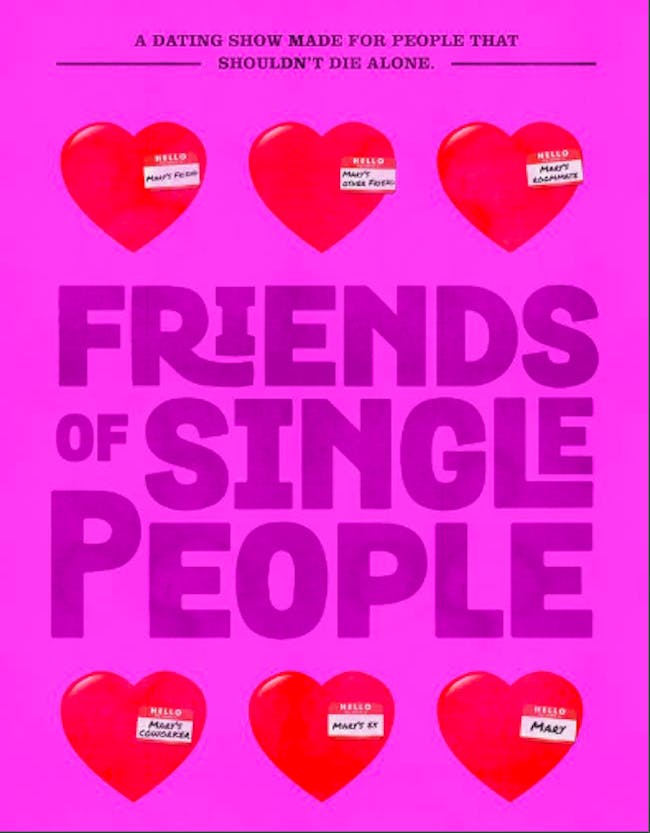 Friends of Single People
Jo Firestone, John Reynolds, Gary Richardson, Celeste Yim, Aaron Jackson
$8.00 - $10.00
Tickets At The Door
You won't be alone forever. Try letting a comedian act as your proxy onstage in a live dating game. It could be worse!
Doors open and sign-up begins at 7:00PM.
Comedians get to know single participants for approximately 10 minutes. After that, the singles get to sit anonymously in the crowd as the comedians do their best to represent their single and get them a date. Four (4) real couples have been formed as a direct result of this live show. Sign-ups start at 7pm. All orientations welcome.
Hosted by Jo Firestone (Butterboy, Joe Pera Talks With You).
Featuring:
John Reynolds (Search Party)
Gary Richardson (SNL)
Celeste Yim (Vice)
Aaron Jackson (National Lampoon Radio Hour)
Ashley Brooke Roberts (NPR)
Josh Sharp (Comedy Central)
Carmen Christopher (Adult Swim)
Samantha Ruddy (Colbert)
Kevin Iso (Comedy Central)
Rachel Pegram (Netflix)
Limited seating first-come, first-serve. Lineup subject to change.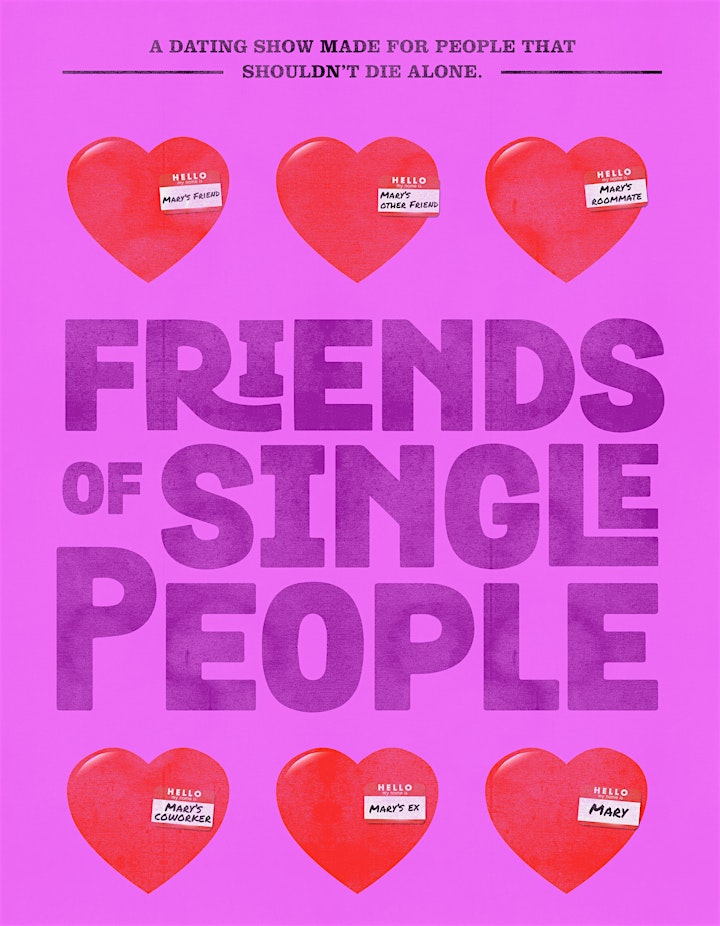 I'm a comedian, writer, and proud etcetera-er. In addition, I have a large amount of respect for authority figures, an extensive Disney pin collection, and a Bug Out Bag for when the S.H.T.F.

I teach 10-year-olds stand up at Gotham Comedy Club throughout the year, AMA.

I perform live versions of my newsletter "Ashley Explains It All" sporadically at Union Hall in Brooklyn, NY. For five years, I hosted a stand up show every Thursday with comedian Jim Tews at the UCB East Village called Fresh Out! NY before the beloved venue closed. RIP.

I currently write for Ask Me Another on NPR.

I wrote for Nat Geo's Explorer where I took a shot of Wild Turkey with Dan Rather and was held in a loving embrace by Jeff Goldblum.

I acted on the UCB Maude teams The Prom and Absolutely, as well as the all-lady sketch show Bullshit Women.

I've been in commercials for all your favorite household products (Febreeze, Scrubbing Bubbles, DampRid, Seamless, etc.).

In college, I won an award from the Associated Press for general news reporting for writing about a county board member with ties to dog fighting.

I love writing bios.

And I have written an erotic novel called The Kings Property, which details the adventures of Fritz and the last honest men in the apocalypse.

Carmen Christopher is a 2020 Vulture comic to watch who has appeared on Shrill, Joe Pera Talks to You, High Maintenance, At Home with Amy Sedaris, Late Night with Seth Meyers, and more. He created I'm Killing It and his videos of him humiliating himself on NYC subways have gained a large cult following. He was also a writer on The Chris Gethard Show. He's a Chicago trained bad boy who has a chip on his shoulder but also a heart of gold. - This Bio was written mostly by his mentor Chris Gethard.

Samantha Ruddy tells jokes, writes funny stuff, and weasels her way into your heart with her girl-next-door charm. Samantha has performed standup on The Late Show with Stephen Colbert, headlined Carolines on Broadway, and appeared in videos for Comedy Central--all before her 27th birthday! She is currently one of the warmup comics at Full Frontal with Samantha Bee and has performed at comedy festivals like New York Comedy Festival, San Francisco Sketchfest, and Melbourne International Comedy Festival.

Originally from Houston, Kevin Iso began performing stand up all across Texas before moving to New York where he has been honing his skills. Kevin has performed at the Montreux Comedy Festival in Switzerland, the Funny or Die Oddball Festival, Bridgetown Comedy Festival, and was a "New Face" at the prestigious 2019 Just For Laughs Festival in Montreal. After being named one of Comedy Central's "Comics to Watch" in 2015, Kevin's stand-up was featured on AXS TV's Gotham Comedy Live and Comedy Central's Adam Devine's House Party. Kevin wrote and stars in the award-winning digital series, Flatbush Misdemeanors and recently filmed a recurring role opposite Zoë Kravitz on Hulu's High Fidelity. Kevin also appeared on the most recent season of This Week at the Comedy Cellar for Comedy Central.

Venue Information:
littlefield
635 Sackett Street

Brooklyn, NY, 11217