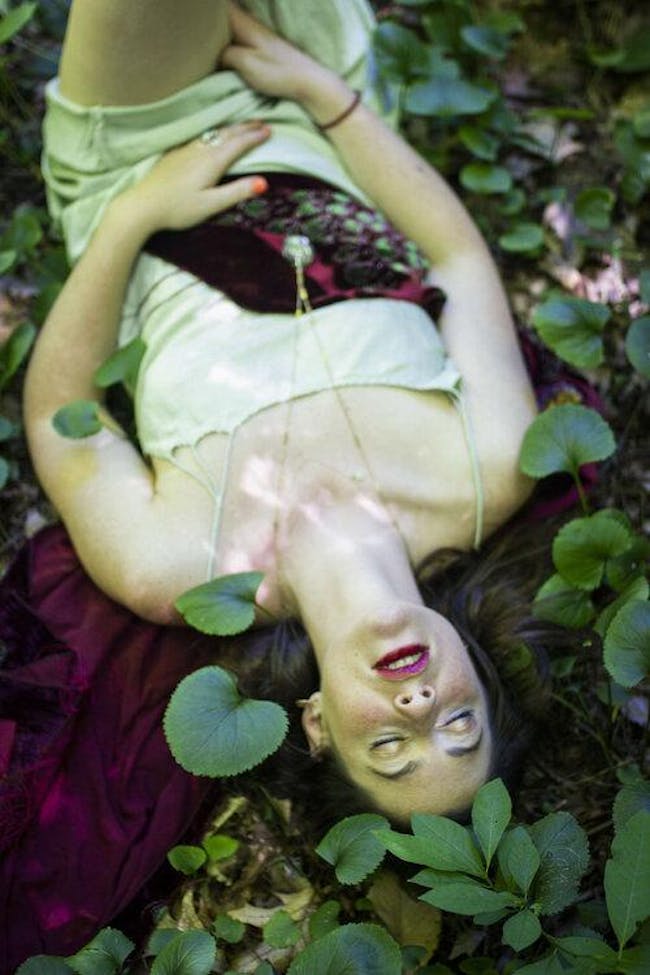 Elana Brody, Lau Noah, Ian George + The Well, and Holly Arrowsmith team up for an intimate night of music at Littlefield.
Elana Brody was raised in the Appalachian mountains of Virginia by Jewish homesteaders inspired by the "back to the land" movement of the 60s and 70s. Music being a good way to pass time in the mountains, Elana was raised up with lots of singing and dancing in the home, mostly folk and bluegrass, some Broadway, and lots of Rise Up Singing. She began writing songs at 12, inspired by pop music on the radio, which was her sole connection to the "outside world" beyond the insular rural Appalachian culture.
She followed her passion from then on, creating more music, joining bands, performing, and furthered to study professional music in Boston at Berklee College of Music. She met many musicians and collaborators there, was exposed to Jazz and World music, and was fortunate to get to study and perform with 10 time Grammy winner Bobby McFerrin, and his collaborators Joey Blake and Rhiannon. Moving to NYC after college, she began a performing and busking career, learning just as much from the clubs, as in the subway stations and street corners. She offered her vocal talents in recording sessions, and worked for different artists on their projects.
After many wild musical adventures in NYC, she moved to Boulder Colorado to re-root, or you could say "return" to an earthier sense of self, place, and pace, and she began to notice her jewishness, in an atmosphere sparkled by the influence of Jewish Renewal founder Reb Zalman Schaecter Shalomi and Naropa University. Several revelational sparks later, after a few years, her gut led her to seek out an environment of Jewish people, so as to be able to "talk candidly about the Holocaust and Palestine," and learn what it meant to be "Jewish". She relocated back east to become an Adamah fellow, and live at Isabella Freedman Jewish Retreat Center where she met collaborators Kohenet Shamira Chandler, Rabbi Sarah Bracha Gershuny, and Shir Yaakov, amongst others.
The first month of her time there, Shir Yaakov asked Elana if she would sing Kol Nidre for the Yom Kipper renewal service there. Being that she was raised in rural Appalachia, without much ritual judaism, Elana did not actually know what Kol Nidre was. Still, she said yes. What followed was the most transcendental "performing" experience Elana had ever felt at that point in her life. She knew that she had connected with something she had always been yearning for: a way to bridge creative music with authentic transcendental and communal spirituality. Since that moment, she has felt divinely swept into leadership in the jewish renewal world and is so grateful to get to use her musical talents therein. She is currently in the 9th cohort of the Kohenet Institute, studying with Rabbi Jill Hammer, Shoshana Jedwab, and Taya Ma. She is hoping to grow her ritual leadership so as to create services for all kinds of Jewish folk, bridging divides and sowing seeds of joy and peace. It is her honor to be able to "make people feel things", in both her own personal songwriting work, as well as in her ritual leadership and musical healing she offers for the larger jewish community, as we grow and stretch through these trying times.

Born in the heart of the American desert, in Santa Fe, New Mexico and raised in the mountains of Southern New Zealand, Multi Award-Winning Songwriter Holly Arrowsmith is a strong forerunner in New Zealand's current Folk Revivalist movement. With sound comparisons drawn to Emmylou Harris, Joni Mitchell and Nick Drake, Holly delves into the earnest matters of lifewrappedin metaphors of nature and the soothing landscapes that raised her.

Her powerful solo performance has carried her from home in New Zealand to the far reaches of North America, Australia and beyond, earning regard not only for her exquisite songwriting but also her sense of humour and authentic stage presence.

Holly has supported the likes of Sixto Rodriguez, Patty Griffin, Willie Watson, CW Stoneking, Jessica Pratt, Nadia Reid and Tiny Ruins. She has released two critically acclaimed records- 'For The Weary Traveller' and 'A Dawn I Remember.' In 2016 Holly received the TUI Folk Album Of The Year and was recently awarded the APRA Country Song of the Year 2019.

Venue Information:
littlefield
635 Sackett Street
Brooklyn, NY, 11217