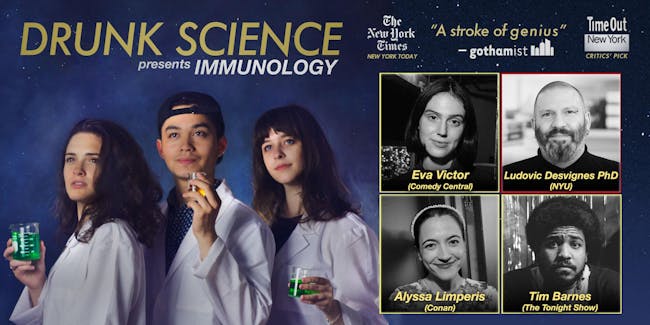 Drunk Science Presents: Immunology (At Home!)
Jordan Mendoza, Joanna Rothkopf
THIS IS AN ONLINE EVENT: Funny people, smart people, a theme and lots of drinks creates the foundation for this show of wit and wisdom
Watch as three comedians compete to present the best scientific dissertation to a panel of real scientists. Featuring comedians Alyssa Limperis, Eva Victor, Tim Barnes and special guest scientist, Dr. Ludovic Desvignes!
Drunk Science is a show hosted by comedians Joanna Rothkopf (writer, Last Week Tonight), Shannon Odell (neuroscience PhD) and Jordan Mendoza (Comedy Central).
Our live virtual show is an at home drinking game (so have those drinks ready!) featuring interviews with scientists, trivia, and comedic scientific presentations.
Venue Information: