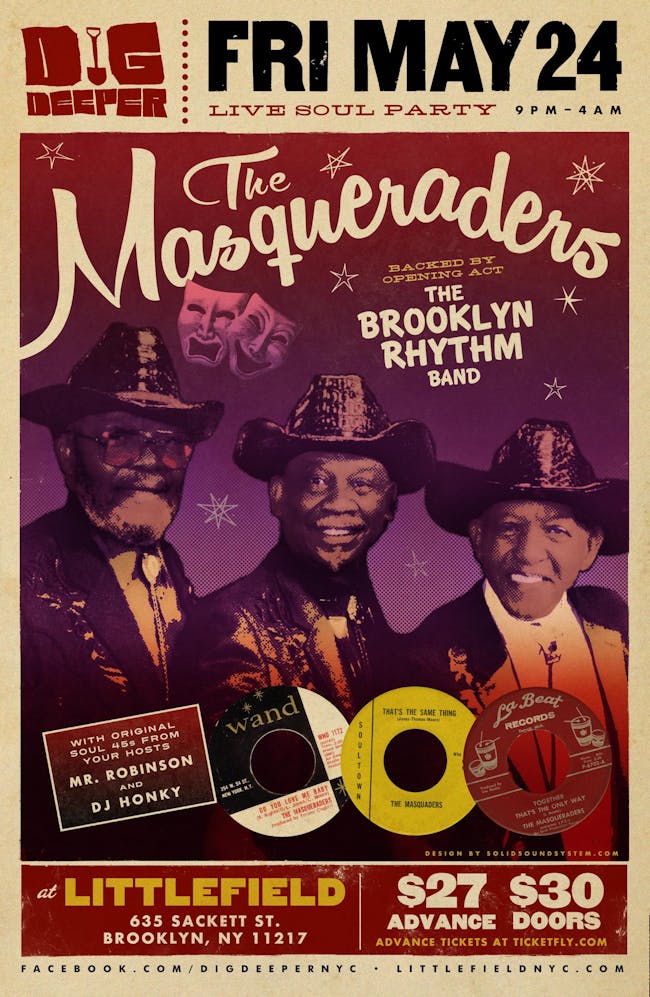 w/ The Brooklyn Rhythm Band
The Masqueraders
The Brooklyn Rhythm Band, Mr. Robinson, DJ Honky, Eli "Paperboy" Reed
Dig Deeper returns with legendary soul group The Masqueraders for Littlefield's 10-year anniversary week in their first NYC show since 1969!
Doors open at 9:00PM. Show starts at 9:30PM.
Standing room only.
Live show will be followed by an After Hours DJ party.
Part of Littlefield's 10-year anniversary week! 10 years have gone by in a flash! We'd like to thank everyone that's been a part of it and present a bunch of shows celebrating this milestone with past, present, and hopefully future friends and collaborators. Thank you all and we hope to see you soon!
We said we would be back. We like to keep our promises. And we're going to do it in true Dig Deeper style – with a legendary soul group who cut a stack of incredible records treasured around the globe, who haven't played NYC in 5 decades - since the Apollo in 1969.
Since the last Dig Deeper show in 2015, we know you've been studying up on your soul music. Let's start off with a quick quiz – name a soul group who:
· Cut their foundational records in the Lone Star State of Texas
· Went on to record in Detroit in the heyday of 1960s Motor City soul
· Cut tracks for Willie Mitchell's legendary Hi Records in Memphis
· Were produced by Isaac Hayes, releasing 2 LPs and a group of 45s on his label
· Won a whole new set of fans in their dynamite 2017 performances on America's Got Talent
(Knowing how sharp you all are, we really shouldn't be running a quiz when the answer is at the top of the page.)
For all of these reasons and more, Dig Deeper is beyond thrilled to be presenting – all the way from Memphis – The Masqueraders: Sammie Hutchins, Harold Thomas, and Robert "Tex" Wrightsil.
At this special show, The Masqueraders will be performing a set of their records from across their career – Texas, Detroit, and Memphis – songs cherished by Northern Soul dancefloors for decades, aching ballads, Hi rhythm groove, and more. You are in store for a night of soul vocal harmony perfection!
The Masqueraders will be backed by the soul powerhouse known as The Brooklyn Rhythm Band, whom you have seen at countless shows over seven years of Dig Deeper. They will be opening the night with their own set in tribute to three soul legends who left us far too soon - Dig Deeper alumni Don Gardner, Harvey Scales, and Otis Clay - with vocals by none other than Eli "Paperboy" Reed!
As always, Dig Deeper DJs Mr. Robinson and DJ Honky will spin all-original soul and funk 45s before and after the live sets. Wear your dancing shoes – you will need them!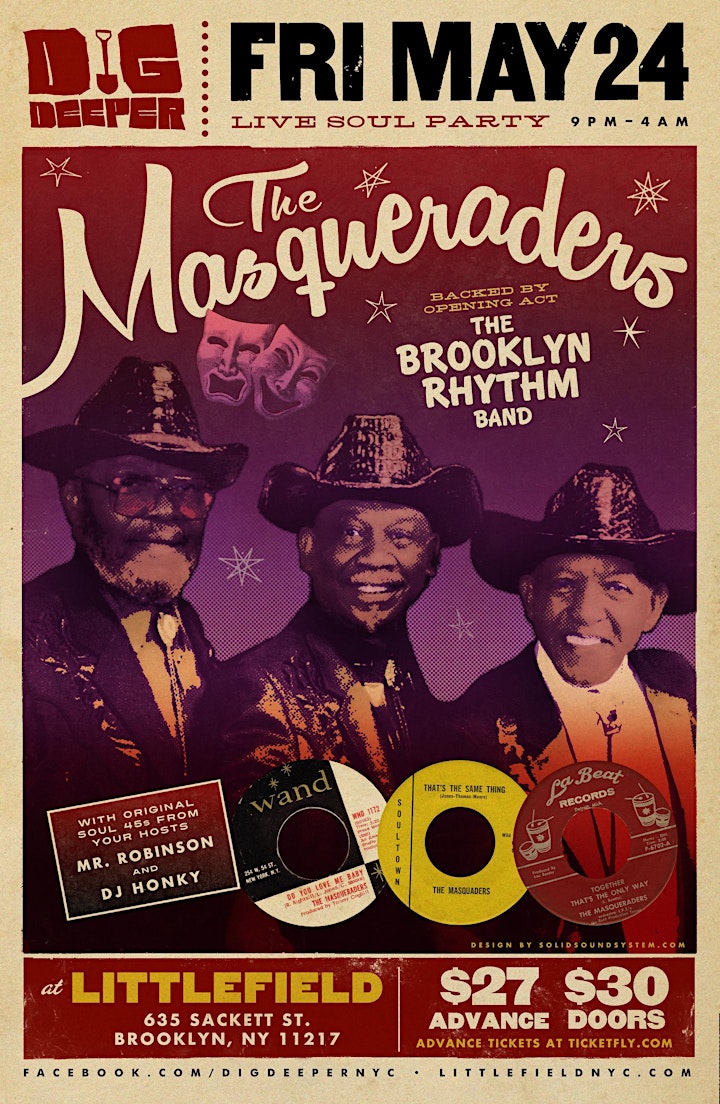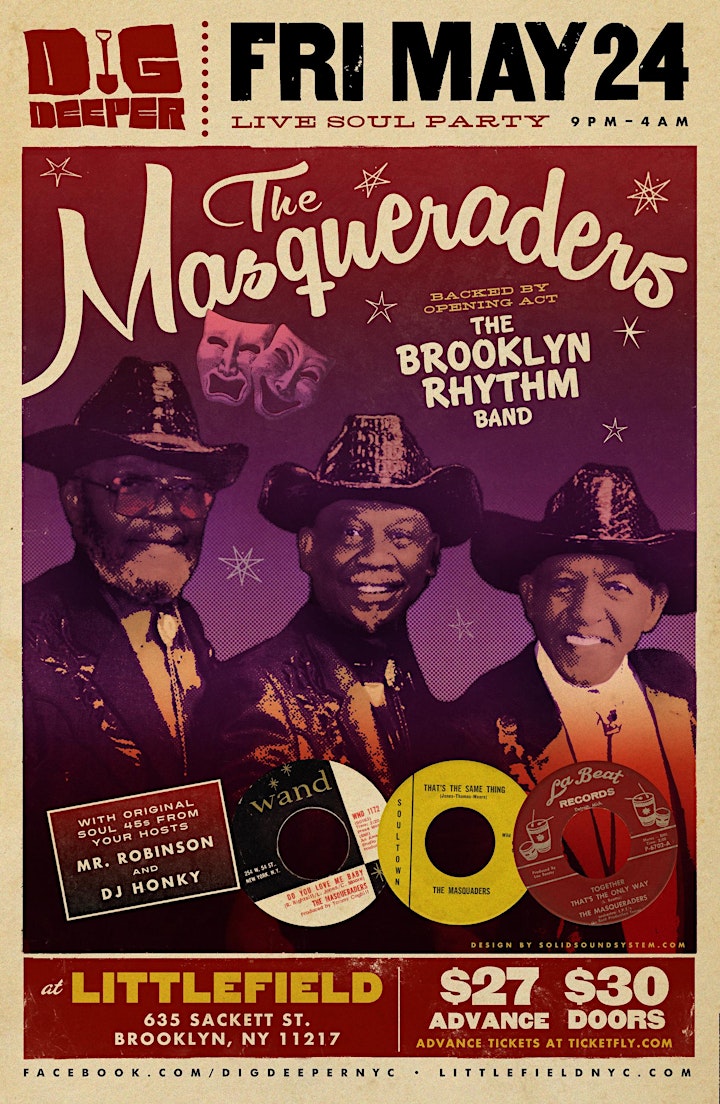 Venue Information:
littlefield
635 Sackett Street
Brooklyn, NY, 11217