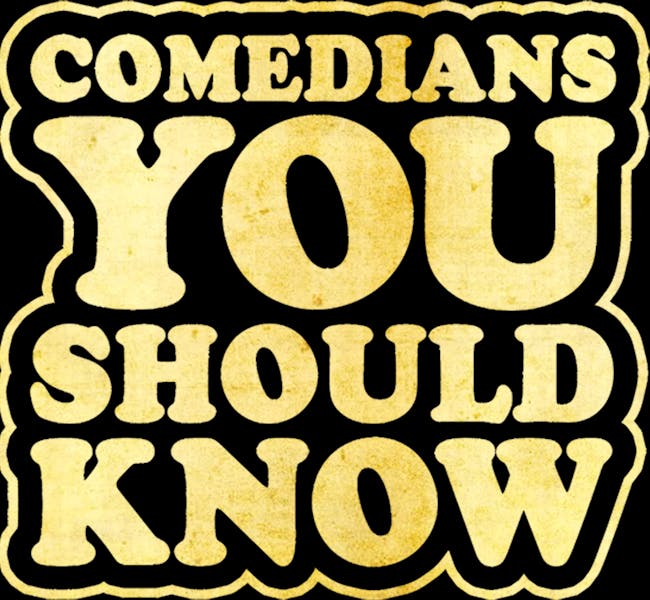 Comedians You Should Know
Judah Friedlander, Nathan Macintosh, Aminah Imani, Carmen Lagala, Damon Sumner
$8.00 - $10.00
Tickets At The Door
Comedians You Should Know brings you the best stand-up the world's greatest city has to offer. Which is saying something.
COMEDIANS YOU SHOULD KNOW is a stand-up comedy collective for some of the funniest up-and-coming stand-up comedians in the country. Since its inception in 2008, CYSK has produced a weekly stand-up comedy showcase in downtown Chicago that continues to draw sold-out crowds and a loyal local following. Fans and comedians alike recognize CYSK for it's unwavering commitment to presenting only the very funniest local comedians and visiting guests. The Onion AV Club writes of CYSK, "the genuine level of talent is unrivaled in Chicago."
In 2015, CYSK branched out to the west coast, and now produces a weekly show at the Improv Comedy Club in West Hollywood as well. CYSK are thrilled to bring the same scrappy, comedic vision and DIY-attitude to New York City, home of the best stand-up comedians in the world. In a dynamic comedy scene with so many different styles of comedy shows, CYSK believe the only gimmick required is presenting the very funniest standup comics available; the only theme to the show is that all of the performers are comedians you really should know.
Featuring:
Judah Friedlander (30 Rock)
Nathan MacIntosh (Fallon)
Aminah Imani (Wine Before Nine)
Carmen Lagala (Colbert)
Damon Sumner (Fourth and Ten)
Mike Lebovitz (Last Comic Standing)
CYSK NYC is produced by Chicago-bred/New York-based comedians Saurin Choksi, David Drake, Mike Lebovitz, and Jeff Steinbrunner.
Lineup subject to change. Limited seating. Your ticket does not guarantee a seat.

With his ranty, need-to-get-this-out style, Nathan Macintosh is an award winning comedian who offers a deeper, different perspective that's always fresh and funny. His opinions and thoughts focus on a unique sense of individuality, making him compelling and interesting, while touching on topics most people overlook.

Most recently making his late night debut on Conan on TBS, he's also appeared on Gotham Comedy LIVE for AXS TV, his own half hour Comedy Now! special shown on The Comedy Network/CTV, Just For Laughs Gala, Red Eye on Fox News, The 10th Annual Canadian Comedy Awards, the Halifax Comedy Festival, CBC's The Debaters,

Nathan has performed at many of the major comedy festivals, including the Halifax Comedy Festival in 2009, 2012 and 2014, 2016, the Boston Comedy Festival in 2010, and the prestigious Just For Laughs Comedy Festival in 2010, 2012, 2014 and 2016, where he performed on a Gala taped for TV that was hosted by Carrie Fisher.

Nathan has also been heard on radio, Sirius, XM radios Laugh Attack, Chomping at The Bit and is a regular on CBC's radios 'The Debaters'.

Nathan's album I Wasn't Talking was featured in Ex!aim Magazine's Top Ten Hilariously Good Comedy Moments of 2015. He is also the host of the podcast Positive Anger, which has over 400,000 listens on SoundCloud and is frequently in the top 200 podcasts on iTunes.

Nathan is a winner of and has been nominated for multiple Canadian Comedy Awards, including Best Writing and Best Taped Performance, and winning the Tim Simms Encouragement Award in 2007.

"Brilliant Stand Up Comedy"

"lively and immensely likeable" - Eye Weekly

"Cream of the Crop in Comedy" - Halifax Herald

Carmen Lagala is a New York City based stand-up comedian who made her network television debut in 2018 on The Late Show with Stephen Colbert.


Originally from Vermont, Carmen endears audiences with her small-town charm, delivering jokes that are smart, dark, dirty and playful. She regularly features for comedian Hari Kondabolu at the best clubs and theaters across the country, and recently appeared in the web sketch "Dollar Store Therapist" for Comedy Central.


Carmen was featured in the 2018 New York Comedy Festival for stand-up, sketch, a roast, and her own show "Puppets Present" which was a Time Out New York pick for "Best Shows to See". She's performed in several other festivals including Brooklyn Comedy Festival, Bridgetown, Rogue Island, and the Women in Comedy Festival

Mike Lebovitz
began his comedy career at the age of six with clowning classes at the local JCC. He's been delighting crowds with his intoxicating brand of wild-eyed humor ever since. Mike's irreverent bar-stool philosophy careens from topic to topic like a runaway freight train with some dubious couplings. Audiences have described the experience as "spontaneous," "joyful' and "slightly terrifying."


Mike cut his teeth in Chicago (not as painful as it sounds), where he was a regular at Zanies Comedy Club, The Laugh Factory and Comedy Bar Chicago. He co-founded the popular showcase, Comedians You Should Know, which he brought to New York City in 2016. It has since become the weekly go-to spot to see comedy legends and up-and-comers rock the same mic.


Internationally, Mike has offended nostrils in Montreal as a "New Face" of the 2013 Just For Laughs, and he won The Montreux Comedy Festival competition in Switzerland. He's been featured on NBC's Last Comic Standing, Comedy Central, and HBO's The Deuce. Look for his debut album, LEBO, in early 2019 on Stand Up Records.

Venue Information:
littlefield
635 Sackett Street
Brooklyn, NY, 11217