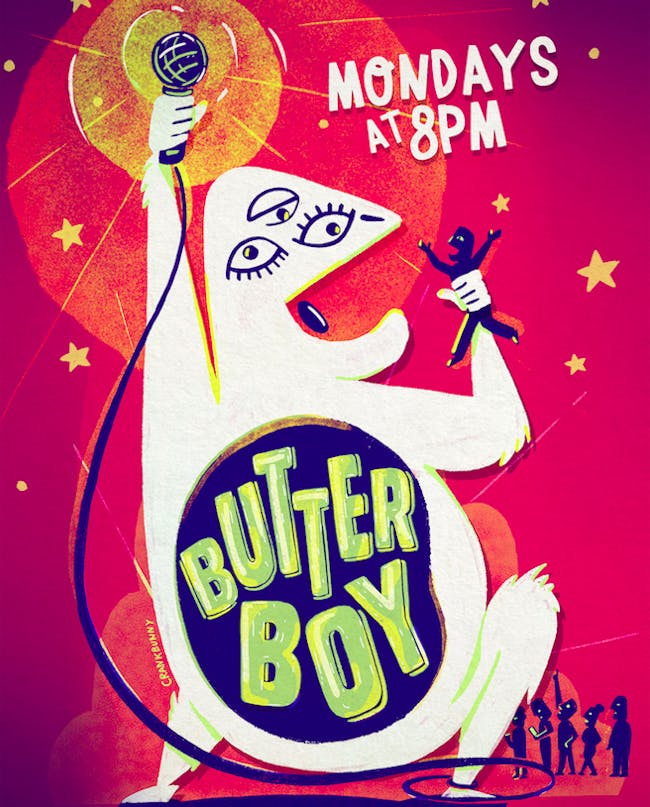 Butterboy with Jo, Aparna and Maeve
Jo Firestone, Maeve Higgins, Casey Ley, John F. O'Donnell
Jo Firestone, Aparna Nancherla and Maeve Higgins host the freshest comics every Monday at Brooklyn's least smelly comedy venue.
Monday Funday Promo: Every Monday, be one of the first 50 ticket buyers and get a "Buy One, Get One Free" Taco Coupon redeemable at our sister joint Parklife.
Three chuckle monsters descend on Littlefield every Monday at 8pm, clutching with them a horde of the freshest, silver-tongued comics and phone sex operators this city has to offer. Legends in their own right, these three friends, Aparna Nancherla, Maeve Higgins and Jo Firestone combine forces to host the funniest and best show in Gowanus! Accompanied by the musical stylings of DJ Donwill and the sensual silence of a rotating Idris Elba impersonator, you won't want to miss it. Plus, find out which parts of this blurb are bold, unapologetic lies!
Lineup:
Casey Ley
John F. O'Donnell
+ more!
Official afterparty at 10:00PM at Parklife 636 Degraw St.
Lineup subject to change. Seating is first-come, first-served.
Jo Firestone is a comedian whose work can be seen on The Tonight Show Starring Jimmy Fallon, The Chris Gethard Show, and heard on WFMU and Earwolf. She was recently named a New Face at the 2016 Just for Laughs Festival, and her Comedy Central half hour comes out this fall. If you like puns, check out her board game, Punderdome: A Card Game for Pun Lovers. If you don't like puns, don't worry about it. You can also see Jo doing stand-up in different basements around the city.

Maeve Higgins is the host of the hit podcast Maeve In America: Immigration IRL. She has performed all over the world, including in her native Ireland, Edinburgh, Melbourne and, most recently, Erbil. Now based in New York, she's made a name for herself there too. In a good way! She co-hosts Neil deGrasse Tyson's StarTalk on National Geographic and has appeared in Comedy Central's Inside Amy Schumer. Her work has been published in The New York Times and The Irish Times, and she is writing a book of essays for Penguin due for publication later this year.

Venue Information:
littlefield
635 Sackett Street
Brooklyn, NY, 11217