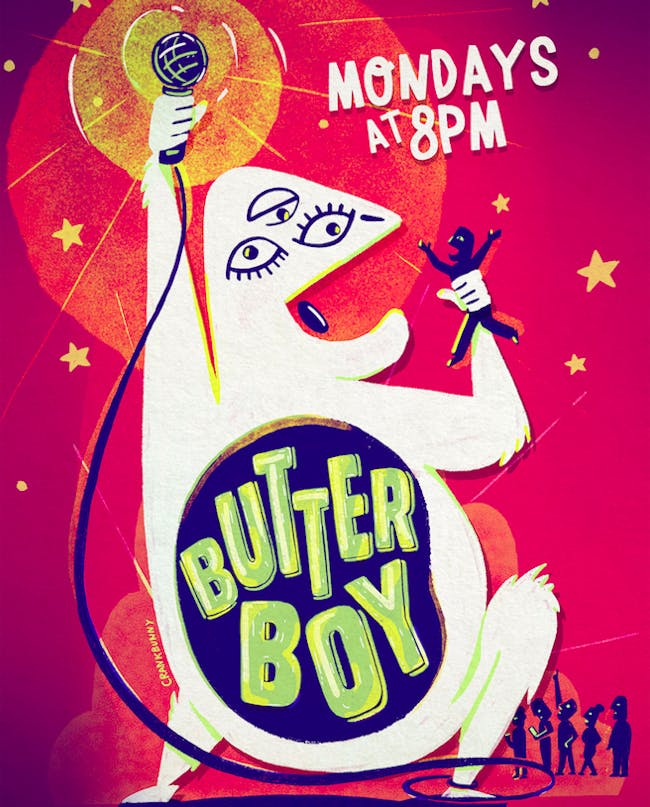 Butterboy with Jo, Aparna and Maeve
Jo Firestone, Aparna Nancherla, Maeve Higgins, Shane Torres, Daniel Simonsen
$8.00 - $10.00
Tickets At The Door
Jo Firestone, Aparna Nancherla and Maeve Higgins host the freshest comics every Monday at Brooklyn's least smelly comedy venue.
Monday Funday Promo: Every Monday, be one of the first 50 ticket buyers and get a "Buy One, Get One Free" Taco Coupon redeemable at our sister joint Parklife.
Three chuckle monsters descend on Littlefield every Monday at 8pm, clutching with them a horde of the freshest, silver-tongued comics and phone sex operators this city has to offer. Legends in their own right, these three friends, Aparna Nancherla, Maeve Higgins and Jo Firestone combine forces to host the funniest and best show in Gowanus! Accompanied by the musical stylings of DJ Donwill and the sensual silence of a rotating Idris Elba impersonator, you won't want to miss it. Plus, find out which parts of this blurb are bold, unapologetic lies!
Lineup:
Shane Torres
Courtney Maginnis
Ashton Womak
Daniel Simonsen
Nataly Aukar
Arthur Meyer
+ more!
Official afterparty at 10:00PM at Parklife 636 Degraw St.
Lineup subject to change. Seating is first-come, first-served.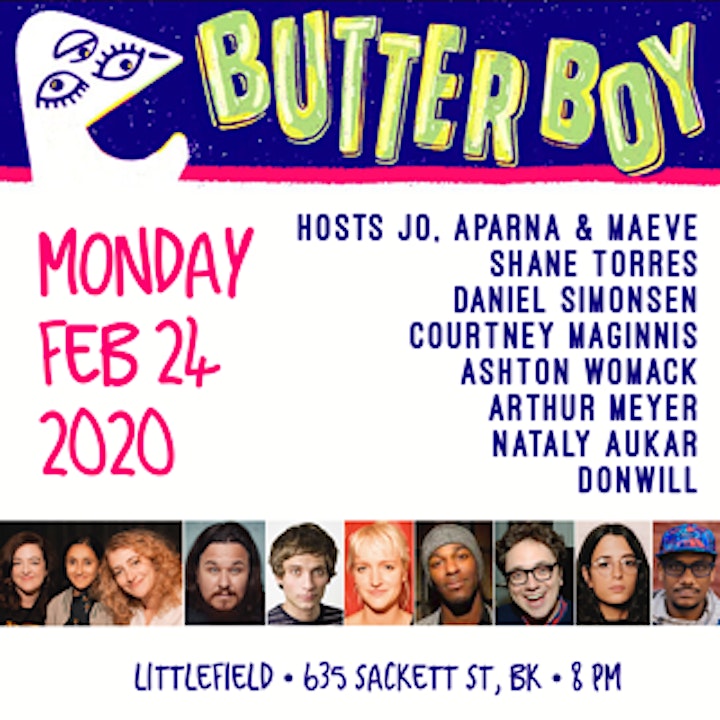 Aparna Nancherla is a comedian of the stand-up variety, but can often be seen sitting. Last year, she released her debut album, Just Putting It Out There, on Tig Notaro's new label, Bentzen Ball Records and recorded a Comedy Central half hour special. This year, she was named one of "The 50 Funniest People Right Now" by Rolling Stone. Currently, you can catch her on the latest seasons of Bojack Horseman, Master of None and Love, all on Netflix, as well as on HBO's Crashing. She's also written for Late Night with Seth Meyers (NBC) and Totally Biased (FX). Aparna will next appear on the upcoming Comedy Central show, Corporate.

Maeve Higgins is an Irish comedian from Cobh, County Cork, now based in New York. She was a principal actor/writer of the RTÉ production Naked Camera, as well for her own show Maeve Higgins' Fancy Vittles. Her book of essays We Have A Good Time, Don't We? was published by Hachette in 2012. She wrote for The Irish Times and produces radio documentaries.

Venue Information:
littlefield
635 Sackett Street
Brooklyn, NY, 11217