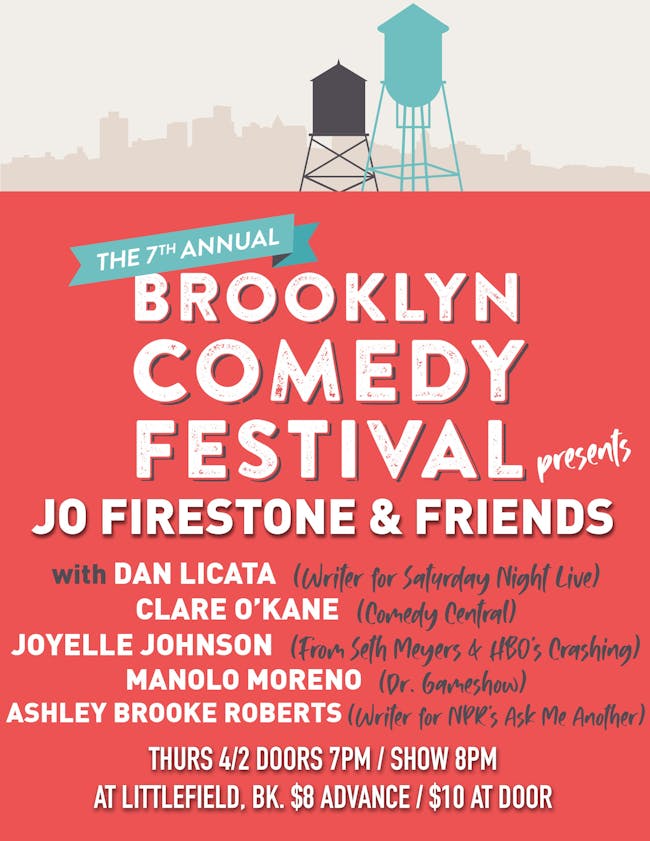 Brooklyn Comedy Festival Presents Jo Firestone & Friends
Jo Firestone, Dan Licata, Clare O'Kane, Joyelle Johnson, Manolo Moreno
It's the 7th annual Brooklyn Comedy Festival with our very own Jo Firestone!
Doors 7pm, show 8pm. Seats are limited and on a first come first serve basis. Lineup is subject to change.
Jo Firestone (Adult Swim) has five friends and they're all great at comedy! Their names are Dan Licata (SNL), Clare O'Kane (Shrill), Manolo Moreno (Dr. Gameshow), Joyelle Nicole Johnson (HBO), and Ashley Brooke Roberts (NPR's Ask Me Another!). Don't miss Jo and her pals at this very special Brooklyn Comedy Festival show.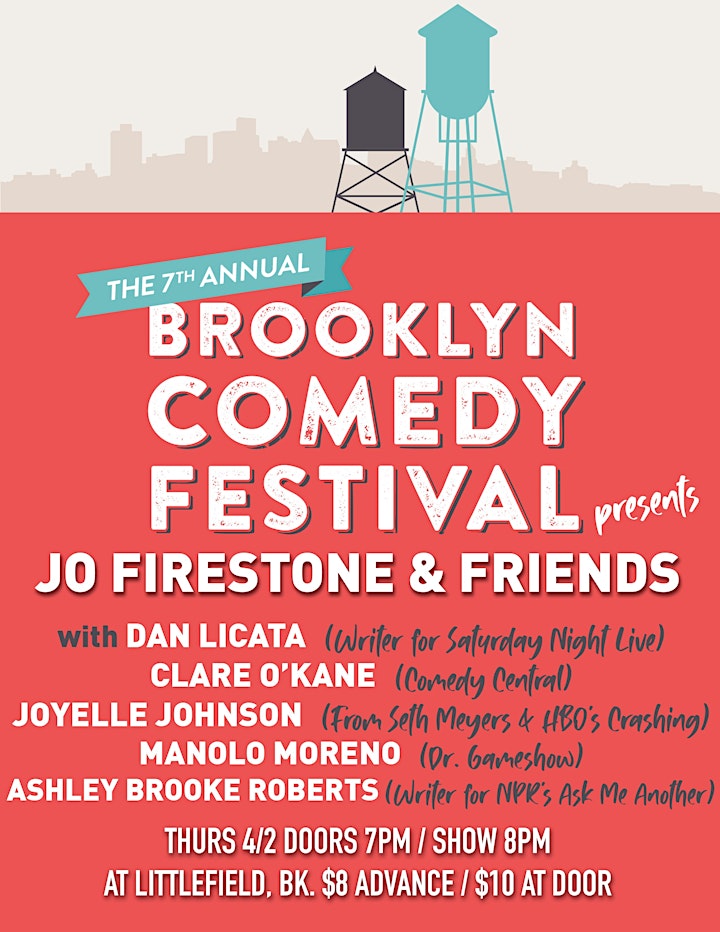 Jo Firestone is a comedian whose work can be seen on The Tonight Show Starring Jimmy Fallon, The Chris Gethard Show, and heard on WFMU and Earwolf. She was recently named a New Face at the 2016 Just for Laughs Festival, and her Comedy Central half hour comes out this fall. If you like puns, check out her board game, Punderdome: A Card Game for Pun Lovers. If you don't like puns, don't worry about it. You can also see Jo doing stand-up in different basements around the city.

Dan Licata is a NYC-based comedian and one of the co-hosts of Dan + Joe + DVD Show. He is one of the writers & co-producers of Joe Pera Talks With You on Adult Swim, and previously co-wrote Joe Pera Helps You Find the Perfect Christmas Tree. He's made appearances on Late Night with Seth Meyers, The Chris Gethard Show, and has made several videos for JASH. He is currently working to achieve his high school diploma.

Venue Information:
littlefield
635 Sackett Street
Brooklyn, NY, 11217