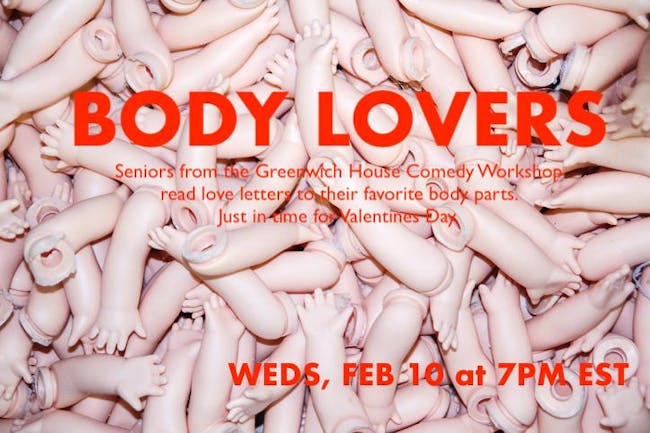 Featuring Seniors from the Greenwich House Comedy Workshop
Body Lovers, hosted by Jo Firestone
THIS IS AN ONLINE EVENT
In the spirit of a more isolated Valentines' Day, seniors from the Greenwich House Comedy Workshop will read love letters to their favorite body parts. Things will get raunchy! Hosted by Jo Firestone.
Featuring:
Helaine Witt, Barbara Bova, Helen Yalof, Linda Marcus Smith, Alex Glatt, Al DiRaffaele, Richard Marshall, Alix Elias, Bill Burke, and more!
Jo Firestone is a comedian whose work can be seen on The Tonight Show Starring Jimmy Fallon, The Chris Gethard Show, and heard on WFMU and Earwolf. She was recently named a New Face at the 2016 Just for Laughs Festival, and her Comedy Central half hour comes out this fall. If you like puns, check out her board game, Punderdome: A Card Game for Pun Lovers. If you don't like puns, don't worry about it. You can also see Jo doing stand-up in different basements around the city.
Venue Information: