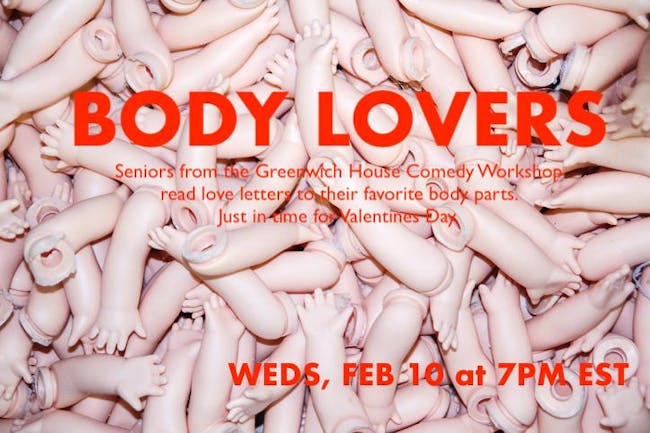 Featuring Seniors from the Greenwich House Comedy Workshop
Body Lovers, hosted by Jo Firestone
THIS IS AN ONLINE EVENT
In the spirit of a more isolated Valentines' Day, seniors from the Greenwich House Comedy Workshop will read love letters to their favorite body parts. Things will get raunchy! Hosted by Jo Firestone.
Featuring:
Barbara Bova, Tom Padovano, Linda Marcus Smith, Bibi Elvers, Alix Elias, Helaine Witt, Tequila Minsky, Richard Marshall, Bill Burke, Evana Lewis, Al Di Raffaele, Teresa Hommel, Alex Glatt, Zygy Susser, Nicki Cochrane, Helen Yalof, Robin Marion, Rebecca Dole and Orlando Dole
Jo Firestone is a comedian whose work can be seen on The Tonight Show Starring Jimmy Fallon, The Chris Gethard Show, and heard on WFMU and Earwolf. She was recently named a New Face at the 2016 Just for Laughs Festival, and her Comedy Central half hour comes out this fall. If you like puns, check out her board game, Punderdome: A Card Game for Pun Lovers. If you don't like puns, don't worry about it. You can also see Jo doing stand-up in different basements around the city.
Venue Information: