If Roast Battle and Debate Club had a super gay baby!
Matteo Lane
Christi Chiello
Marcia Belsky, Rob Haze
$8.00 - $10.00
Sales Ended
Christi Chiello and Matteo Lane host this super gay roast-battle-meets-debate-club, pitting Cardi B and Nicki Minaj against each other!
Doors open at 7:30PM.
HOSTED BY MATTEO LANE & CHRISTI CHIELLO
FEATURING:
MARCIA BELSKY
ROB HAZE
AND PERFORMANCES BY NYC'S BEST DRAG QUEENS!
Battle of the Divas is a raucous and absolutely INSANE live debate show hosted by NYC comedians and pop culture FIENDS Christi Chiello and Matteo Lane. Each show pins 2 pop culture TITANS against each other. Christi & Matteo invite 2 of their favorite comedians to go to WAR over which pop tart should reign supreme. Comics can sing, dance, scream, lecture and brawl to defend their diva using any means necessary! NYC's most fierce up-and-coming Drag Queens perform as the dueling divas and at the end of the night the AUDIENCE decides who wins! After which friendships will end, riots ensue, the venue goes up in flames, possible death? Etc etc etc… You get it!! To hosts Christi & Matteo and their audience of die hard FANATICS, this show truly means life or DEATH!
On April 9th it's CARDI B vs NICKI MINAJ with comedians MARCIA BELSKY repping Cardi and Rob Haze going to bat for Nicki. Drag queens will be announced closer to showdate!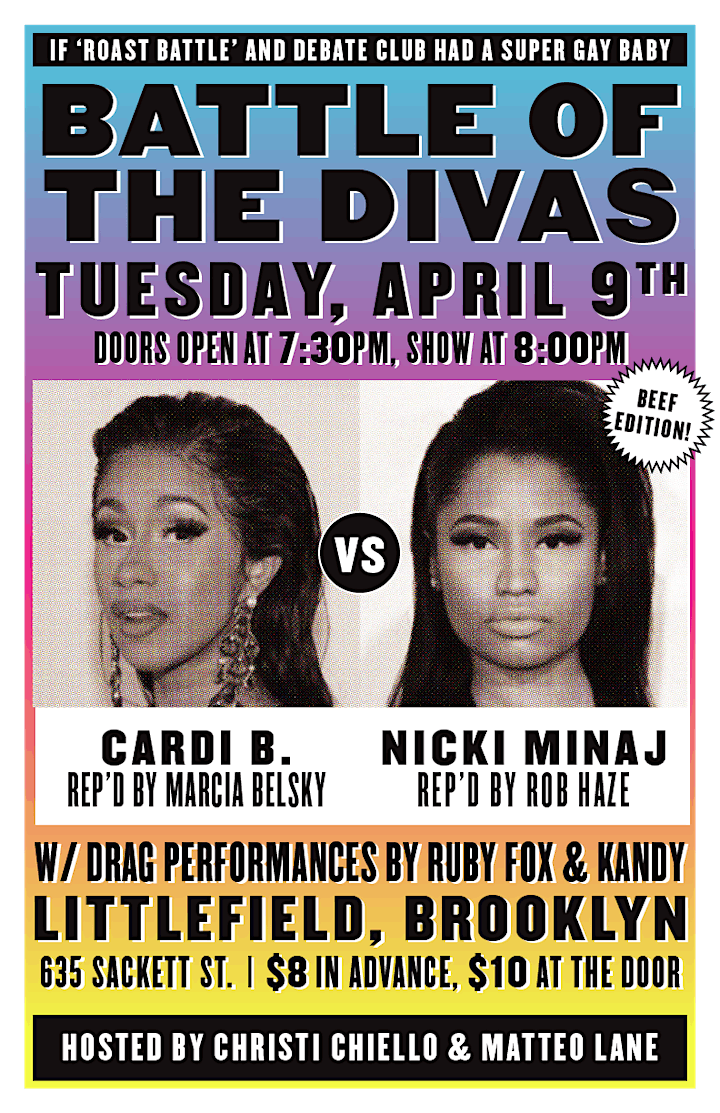 Venue Information:
littlefield
635 Sackett Street
Brooklyn, NY, 11217