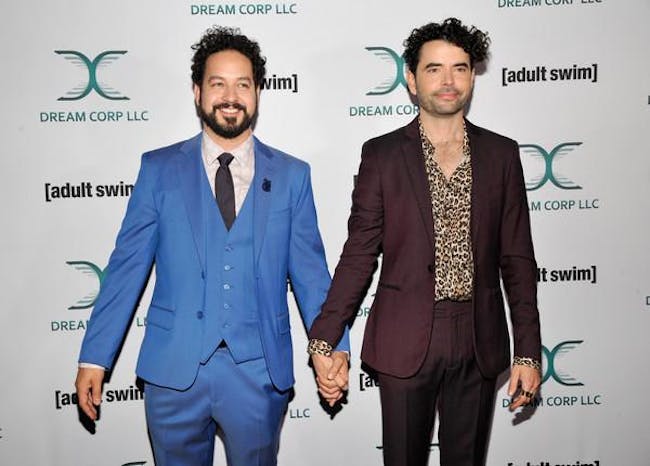 Presented by ThisMyShow Industries
An evening with Nick Rutherford, Ahmed Bharoocha and Friends
Nick Rutherford, Ahmed Bharoocha, Joe Pera, Jo Firestone
$15.00 - $20.00
Temporarily offline
Nick Rutherford, Ahmed Bharoocha, Joe Pera and Jo Firestone. We're hard-pressed to think of anyone we would rather spend an evening with.
ThisMyShow Industries presents an evening of stand-up co-headlined by Nick Rutherford (Dream Corp LLC, SNL, Good Neighbor) and Ahmed Bharoocha (Dream Corp LLC, Conan, Adam Devine's House Party) as they are joined by their friends Joe Pera (Joe Pera Talks With You, Late Night with Seth Meyers) and Jo Firestone (The Tonight Show, Joe Pera Talks With You) and perhaps a surprise guest or two.
Conan, Colbert and Comedy Central veteran Ahmed Bharoocha is half Irish Catholic, half Pakistani-Indian-Burmese-Muslim, and wholly a master of punctuating striking social commentary with high-energy theatrics. You may have seen him on Adult Swim's absurd comedy Dream Corp LLC as the drug addled scatterbrained Nurse Ahmed. Or perhaps you recognized him as one third of the viral sketch group Dead Kevin as seen on Comedy Central or Funny or Die. Ahmed first entered the comedy world as a dishwasher in a comedy club in Providence RI. After putting down the dishes and picking up the mic he quickly became a favorite in the neighboring Boston comedy scene and was regular at The Comedy Studio in Harvard Square. From there Ahmed has gone on to tour comedy clubs all around the country and has performed in festivals including Just For Laughs in Montreal, the Moontower Comedy Festival, Riot L.A., the Great American Comedy Festival and Scotland's Glasgow International Comedy Festival. He now lives in Los Angeles and is working as an actor in film and television. Most recently he can be seen in the indie comedy feature Golden Arm that made its world premier at the South By Southwest Film Festival in Austin TX.
Jo Firestone is a comedian whose work can be seen on The Tonight Show Starring Jimmy Fallon, The Chris Gethard Show, and heard on WFMU and Earwolf. She was recently named a New Face at the 2016 Just for Laughs Festival, and her Comedy Central half hour comes out this fall. If you like puns, check out her board game, Punderdome: A Card Game for Pun Lovers. If you don't like puns, don't worry about it. You can also see Jo doing stand-up in different basements around the city.

Venue Information:
littlefield
635 Sackett Street
Brooklyn, NY, 11217